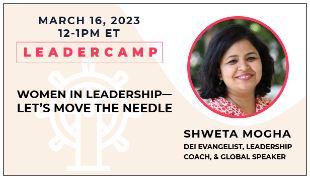 In this Leadercamp, cofounder of eWOW and DEI evangelist Shweta Mogha  focuses on taking charge of your growth by identifying strengths, finding sponsors, and networking. Shweta Mogha has spearheaded high impact HR and diversity & inclusion initiatives like Return to Work for Women, Veterans hiring, and several non-traditional hiring initiatives to attract and retain diverse talent. Shweta has designed several programs to enhance organization culture, growth mindset, and innovation. She is co-founder of eWOW, hosts the eWOW podcasts, and has also contributed to bestselling books like Fast-Track Your Leadership Career.
March 16, 2023: 12pm-1pm EDT
Participants can register for this virtual event at: https://share.percipio.com/cd/rC9dHKpzW
The learning event will be conducted through individual Percipio accounts. 
Contact information: Will Fahey Telephone: 518-276-2318  Email: faheyw@rpi.edu