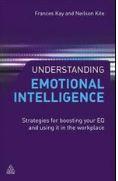 Understanding Emotional Intelligence shows readers how to use emotional intelligence in the workplace. It covers topics such as self-awareness, self-motivation, relationship management, how to assess and develop your emotional intelligence, habits of emotionally intelligent people, how to develop an emotionally aware organization, and how to use EQ as a management strategy. The book is available both in digital and audio format through Percipio.
A virtual book discussion will be held on Friday, January 20, 2023 from 9am-10:30am. For registration information please go to: https://share.percipio.com/cd/F2yWbTlfo
For more information please contact Will Fahey (Manager of Professional and Organizational Development) by telephone at 518-276-2318 or by email at faheyw@rpi.edu.