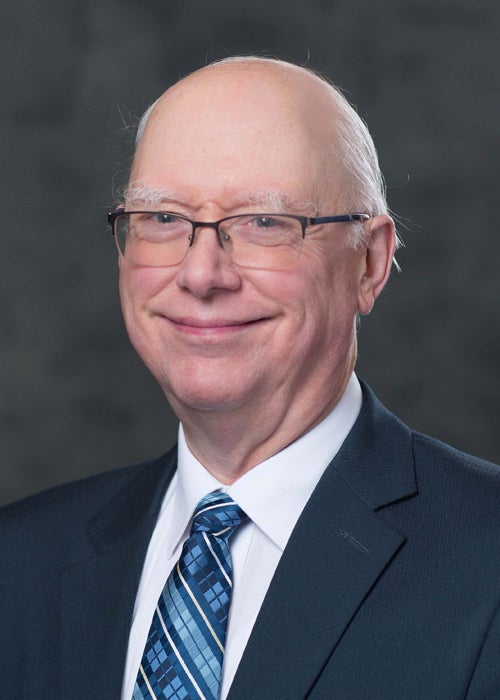 Throughout his 45 years as a full-time professor of applied mathematics at Rensselaer, Bill Siegmann had a strong belief that the role of a faculty member was that of service to students, to the Institute, and to the profession. In addition to teaching and mentoring students, like all Rensselaer faculty do, he felt the obligation to help his doctoral students get the financial support they needed to complete their research.
It was this dedication to his students, and a question posed by Vice President of Human Resources Curtis Powell – "What do you want to do when you retire?" – that led Bill to stay involved with students as they completed their doctoral programs, even following retirement. He retired as a professor and associate dean at the end of 2014 and was later offered a position as a research scientist and he eagerly accepted in order to continue working with three students he had been working with. Now that the last two students are nearing the end of their doctoral work, Bill continues to find ways to stay involved, through participating in fellowship information sessions for graduate students, mentoring students, and assisting them with finding mentors in other areas who can help them be successful in their careers.
A graduate of the Massachusetts Institute of Technology, Bill knew of Rensselaer because his wife's brother earned his undergraduate degree here. At MIT, Bill met a visiting Rensselaer professor he said was "fabulous" and who impressed him so much that he figured "RPI must be a great place." A visit to the campus in Troy revealed that the Institute had "a great balance of research and teaching and I immediately loved the place," he said.
The rest, as they say, is history. Beginning in July 1970, Bill spent 45 years making a significant impact on hundreds of students before retiring for the first time. After that, he continued at Rensselaer as a research scientist until his second retirement in spring 2018. His excellence as a professor was recognized in 1995 when he was honored with Rensselaer's Trustees' Teaching Award, being only the second individual presented with the honor. He recalls it as a very memorable recognition, made even more so because a colleague in the Mathematical Sciences Department was the first recipient. "It was very meaningful, especially because they chose two of us from the same department in those first two years," he said.
Bill said there are two important factors that influenced him to spend all those years at Rensselaer. The first is his colleagues in the Mathematical Sciences Department. "I have had wonderful colleagues, and this Department has an excellent record of great teachers," he said. The Department's leaders have also been outstanding, and he credits them, too, with his longevity at Rensselaer. The other factor is the students. "Rensselaer's students are great to work with and I love to see them evolve. In addition to their academic achievements, they are just great people," he said.
Bill's mission of service to others continues outside of Rensselaer. He now provides a different kind of service as an active volunteer in the Town of East Greenbush where he lives. He has spent 10-plus years on the town's Planning Board and is now a member of the Board of Assessment Review.
With a long and fulfilling career behind him, he now spends more time with his wife, seven children, and 18 grandchildren.