The Rensselaer community remembers faculty and staff who passed away between April 2019 and March 2022.
Greetings
The Pillars of Rensselaer welcome you to this memorial for Rensselaer faculty, staff, and trustees. We remember and celebrate them for all they contributed to the university. Each of these people will leave a lasting impact on Rensselaer.
Musical Reflection by Rensselyrics
The Irish Blessing (a parting Blessing) - Composer- J. Jerome Williams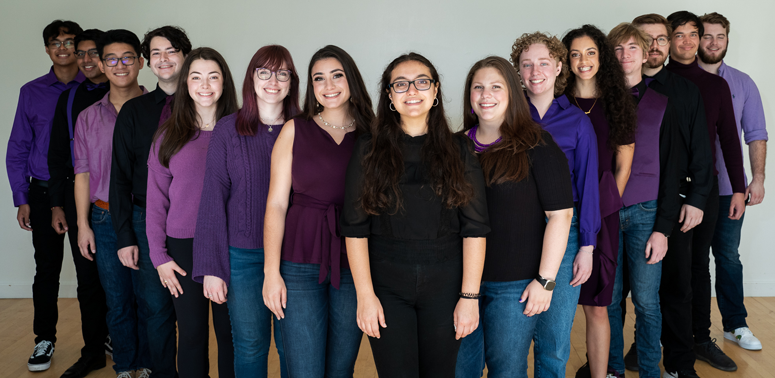 *Highlighted names link to a personal eulogy. These employees were in service at Rensselaer when passed away.
Marie E. Agostine Toma
Judith Lee Armstrong
Robert Athanasiou
Jane Bartlett
Joe Berdar
Richard Bertani Sr.
Richard L. Bielawa
Howard N. Blitman
Oliver Bonnert
William Edward Boyce
Elsa Keitzer Boyce
Edgar Braun, Jr.
Edmond Brown
Sally Brust
Howard W Butler
James Cancilla
Charles Carhart
Anne Anna Rose Carlotti
John Carter
Frederick D. Cawley
Kenneth M. Chappell
Anne Chung
Norma G. Clayton
Charles Close
Elizabeth Conroy
Roger Cottrell
Robert Degeneff
Donna Haughney Devlin
Robert DeVries
George Allou d'Hemecourt
Richard DiCaprio, Sr.
Frank DiCesare
Wilson Dillaway
Steven J. Dombrowski
James R. Dunn
Scott Dwyer
Jerry W. Dziuba
Henry L. Ehrlich
John Eldred
Michael A. Esposito
Christopher Ettles
James T. Fahey
Marguerite J. Favro
Werner L. Feibes
Peter Ficalora
Donald Fichtner
Janet M. Finke
John David Folwarski
Arthur Fontijn
Peter Fox
Mary Johnson Fox
Eileen Skelly Frame
Herbert Freeman
Henry Gepfert
Mary Good
Shirley Gorenstein
Sheila Grande Mulki
John L. Greene, Jr.
Dimitri Grivas
Nannette Hadley
Charles Wills Haines
Anthony M. Hanczaryk
Norise Harris
Jean Myers Heffner
Sue Ann Henry
David S. Heyward
Charles Higginbotham
Alma Rittner Hilton
Helen V. Hudson
Adriane P. Iacocca
Yvonne Ingeborg Herpich Goska
Helen Inglis
Eddie H. Jackson
Melvin Jacobson
William H. Jermann
Jerry J. Jones
Shirley Juedes
Samuel Katz
William J. Kelleher
Warren C. Kennedy
Eddie Ade Knowles
Annette Kolodny
Madeline S. Kowalchyk
Sonja Krause-Goodwin
Craig LaGrange Pritchard
Ronald F. Lansing
Peter K. Lashmet
Hope Lavery
John "Jack" Frederick Lewis
Howard Littman
James Duane Livingston
William J. Luddy, Jr.
Robert G. Lunden
Lisa M. Lupe
James M. Lyons
Joanne Margosian
Irene Marsh
Robin B. Martin
Bernard J. Matkowsky
Thomas McCartney
Richard Norman McCracken
Jane T. McCumber
John McDonald
Richard F. McDonald
Paul A. McGloin
Lorraine E. McGrath
Barbara Anne McKinley
George C. McNeff
William John McRoberts II
Robert Meade
James D. Meindl
Mark Timothy Mellon
Robin Micket
Morris H. Morgan III
Charles Muckenfuss
Edward T. Mulkern
Jean Mulson
Shyam Murarka
Jennifer Nadeau
Nathan Niles
Terry O'Connor
Robert O'Keefe
Joanne O'Leary
Robert E. O'Malley, Jr.
Jan Panek
Richard Park
Denna F. Patterson
Albert S. Paulson
Uriella Perkins-Graham
Josephine A. Perniciaro
Francis W. Pfitz III
Edward R. Plouffe
Ivor Preiss
Georgiana Proctor
Douglas Rebne
Robert Reeves
Louis J. Rekucki
William J. Riegert
Anne Rodino
Margaret Ruggeri
Zvi Rusak
Joan Ryan
Chang Ryu
Michael Savic
Sandra Ann Sawyer
Elizabeth "Betty" Schillinger
Robert J. Schoonmaker, Jr.
Eric Clifford-Joseph Schultz
Mary C. Seeman-Sokal
Inez C. Sencer
Rosemary Severance
Linda Marie Shanahan
Mary Ellen Shapiro
Carol Anne Sinnott
Virginia H. Soovajian
Raymond T. Stammel
David Starbuck
Judith Ann Stemp Powers
Sanford Sternstein
Linda May Flagler Stevens
Richard Stipano
Robert W. Stuart
Robert O. Swanson
Paula Tabor
Catherine Tavella
David Thomson
Marie J. Tomkins
Leonard F. Thur
Sara June Guiles Tyrell
Evelyn Van Buskirk
Charles Vannier
Venkat Venkateswaran
Betty R. Volkert
Samuel C. Wait, Jr.
John Paul Ward
Lawrence Washington
Frances Weidenbacher
Shirley Anne Welch
Gail Wetsel
Robert Whitaker
David R. White
Nelson H. White Jr.
John W. Wilkinson
E. John Winhold
David C. Winters
Thomas E. Yurkewecz
Judith Spain Zimmie