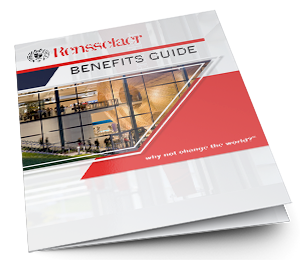 Total Compensation Program
Rensselaer's Total Compensation Program is designed to provide stable pay growth, a comprehensive and affordable benefits package, and a comprehensive and affordable retiree medical and prescription plan.
Rensselaer is recognized locally and nationally for the depth and breadth of its compensation and benefits program.
Our goal is to provide you and your family with a comprehensive health and welfare program as an umbrella of financial security and protection during your employment.
Benefits 2022
***Effective August 16, 2021, multi-factor authentication will be required to log into Benelogic. To access Benelogic, login with your RCS userID and password; you will then be prompted to complete a second factor authentication via Duo, Rensselaer's MFA service. If you are not already enrolled in Duo, please refer to the "Duo Mobile - Multi-Factor Authentication" ITSSC article for instructions. If you have any problems or questions regarding enrolling in or using MFA, please open a ticket in ITSSC.
Benefits Fair 2022 Breakout Sessions
Benefits Fair 2022 Breakout Sessions
"WTW/Via Benefits Medicare Eligible Retirees Overview" by Willis Towers Watson's Via Benefits
"Saving through Roth Contributions in My Retirement Plan" by Fidelity Investments
"Getting the Most from Percipio" By The Division of Human Resources
"Addressing Burnout and Improving Wellbeing" by CDPHP
"The Power of Savings" by TIAA
"Work/Life Balance" by A New England Nanny
"BHS Services Overview" by BHS
"Why You Need a Will & How to Plan Your Estate" by Pattison, Sampson, Ginsberg & Griffin PC
"Diabetes 101" by CDPHP
"Maximizing Your Dental Benefits" by Delta Dental
Rensselaer is recognized locally and nationally for the depth and breadth of its compensation and benefits programs.
When can I enroll and when am I eligible?
Rensselaer provides employees with 10 paid holidays per fiscal year (July 1 to June 30).
Health/Dental/Vision Plans
Flexible Spending Accounts
Flexible Spending Accounts (FSA) allow Rensselaer employees to reduce their taxable income by setting aside pre-tax dollars from each paycheck to pay for eligible out-of-pocket health care and dependent care expenses for themselves and their family.
Employee services are provided by New England Nanny, which provides high-quality, in-home, back-up dependent care on days when regular care is not available.
Employee Assistance Program
Free, confidential, in-the-moment support.
Healthy Campus Initiatives
Keeping faculty and staff in good health
Rensselaer employees have access to a number of great discounts from a variety of companies that are otherwise not available to the public.
Information on COBRA, unemployment insurance, and HIPPA.
Various leave policies including military, medical, family, short term, and long term.
All Rensselaer employees are eligible to park on campus by paying parking deductions on a pre-tax basis.
To help employees continue to receive retirement income once they retire, Rensselaer has established several types of retirement programs for workers who meet certain requirements.
Employees, their spouses, and dependents are eligible under certain conditions.
Please note
This website only highlights the terms of the Institute's employee benefit plans and is not intended to take the place of the detailed information contained in what is known as the Summary Plan Description (SPD) for each benefit. The SPDs will continue to be available online at the Division of Human Resources for you to review.
The actual terms of the various employee benefit plans are stated in and governed by the formal plan documents.
Any inconsistency between the statements found here and the provisions of the applicable plan document(s) will be governed by the provisions of the applicable plan document(s). Except as provided in the applicable plan documents, Rensselaer shall have the exclusive authority and discretion to construe any uncertain or disputed term or provision represented in this site and in all plan documents.
A participant and/or beneficiary, including retirees, shall not have any right to benefits under the plans that in any way interferes with Rensselaer's right to terminate or amend any plan. Rensselaer makes no promise to continue plan benefits in the future and rights to future benefits will never vest (except to the extent as may be provided in a Rensselaer retirement plan).
While Rensselaer endeavors to let employees know of any policy change in a timely manner, we reserve the right to modify any policy without prior notification.