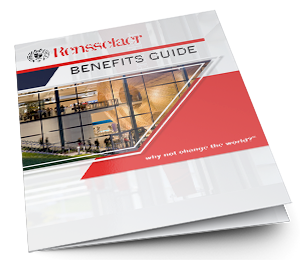 Total Compensation Program
Rensselaer's Total Compensation Program is designed to provide stable pay growth, a comprehensive and affordable benefits package, and a comprehensive and affordable retiree medical and prescription plan.
Rensselaer is recognized locally and nationally for the depth and breadth of its compensation and benefits program.
Our goal is to provide you and your family with a comprehensive health and welfare program as an umbrella of financial security and protection during your employment.
Please note
This website only highlights the terms of the Institute's employee benefit plans and is not intended to take the place of the detailed information contained in what is known as the Summary Plan Description (SPD) for each benefit. The SPDs will continue to be available online at the Division of Human Resources for you to review.
The actual terms of the various employee benefit plans are stated in and governed by the formal plan documents.
Any inconsistency between the statements found here and the provisions of the applicable plan document(s) will be governed by the provisions of the applicable plan document(s). Except as provided in the applicable plan documents, Rensselaer shall have the exclusive authority and discretion to construe any uncertain or disputed term or provision represented in this site and in all plan documents.
A participant and/or beneficiary, including retirees, shall not have any right to benefits under the plans that in any way interferes with Rensselaer's right to terminate or amend any plan. Rensselaer makes no promise to continue plan benefits in the future and rights to future benefits will never vest (except to the extent as may be provided in a Rensselaer retirement plan).
While Rensselaer endeavors to let employees know of any policy change in a timely manner, we reserve the right to modify any policy without prior notification.